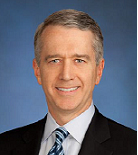 Technology Will Not Replace the Human: A Discussion on the Private Wealth Industry and Career Opportunities
Wednesday, March 18, 5 p.m. Fisher Colloquium, Rafik B. Hariri Building
Tucker York is global head of Private Wealth Management (PWM) and head of the US PWM business. He serves as co-chair of the Investment Management Division Client and Business Standards Committee and is a member of the Partnership Committee and the Firmwide Global Recruiting Council. He also serves on the board of the Goldman Sachs Trust Company. Previously, York served as co-head of PWM Europe. He was based in Europe from 1995 to 2000, first as regional manager of the Equities Division in Frankfurt, then as general manager of the Goldman Sachs Bank in Zurich before moving to London in a European-wide capacity. York joined Goldman Sachs in 1986 in New York PWM. He was named managing director in 1996 and partner in 2000. York serves on the Board of Directors of the Network for Teaching Entrepreneurship and the Board of Trustees at The Browning School, The Marymount School and Christ Church in New York City. York earned an MBA from Harvard Business School in 1986 and a BS from the University of North Carolina in 1982.
The Stanton Distinguished Leaders Series brings to Georgetown's campus leaders who are renowned in their fields to share their unique experiences with the school's students and alumni and to engage in dialogue about leadership in an ever-changing world.
Accommodation requests related to a disability should be made by Wednesday, March 11 to msbevents@georgetown.edu. A good faith effort will be made to fulfill requests made after Wednesday, March 11.