WELCOME

The spring semester is well underway at the Georgetown McDonough School of Business, and the focus of our students beyond their classes is employment. I also have started to receive a number of emails from alumni who are seeking recent Hoya graduates to fill roles within their companies. And finally, as the Real Estate Finance Initiative (REFI) continues to rapidly evolve, I find that we are in need of help. As such, I am calling this newsletter our "Employment Issue." You will find links to current student resumes, summaries of available positions for recent graduates, and a list of areas where REFI could use some help from alumni, parents, and friends. Each of you is integral to our success and for that I could not be more thankful. Please never hesitate to contact me on any of these issues or other topics.
Hoya Saxa,
Matthew Cypher, Ph.D.
Director of the Real Estate Finance Initiative
MBA Students Place 3rd at UNC-Chapel Hill Real Estate Development Challenge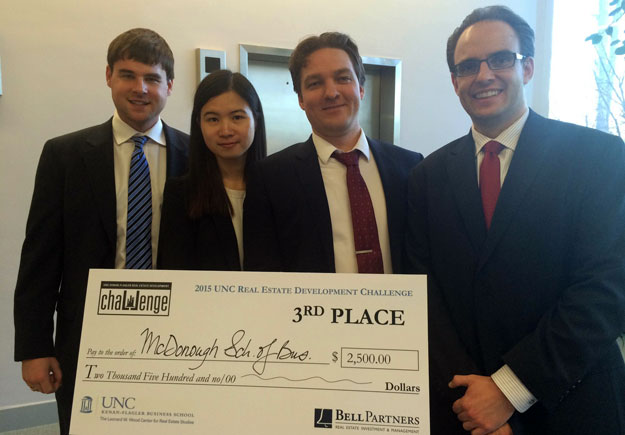 Congratulations to McDonough Real Estate Finance Initiative students Andrew Madigan, Qianying Li, Ryan Maas and Aaron Bothner for placing third in the University of North Carolina's Real Estate Development Challenge. They earned a $2,500 award at the invitation-only competition that featured students from the U.S. and Europe's top MBA programs.
ALUMNI SPOTLIGHT




Michael Gershenson, B '00, is a managing director in The Carlyle Group's U.S. Real Estate team. In this issue's Alumni Spotlight, he explains why Boston and Texas are exciting places for real estate investment and offers advice for Georgetown McDonough students who are getting ready to launch their careers in the real estate industry.

How did the McDonough School of Business help you prepare for your career?

McDonough sets itself apart because you can earn a finance degree as an undergraduate rather than waiting until graduate school. That was integral in my ability to kick start my career. The strong relationship between the school and the Wall Street analyst programs was fabulous, and because of that I found a place at Deutsche Bank that was a good fit. I worked in their corporate mergers and acquisitions group and spent most of my two years there working for real estate clients, and then 13 years ago I joined Carlyle in D.C.

ARGUS BOOT CAMP




At the end of January, Real Estate Finance Initiative students completed a rigorous, three-day ARGUS training course, delivered by Todd Zeldin of ACG Professionals. As part of the initiative's applied learning experience, the students received hands-on training in creating Argus models, performing feasibility studies, optimizing portfolio investments, and creating capital structures for real estate investments, plus case studies that equipped them with the skills to create well–informed strategies for valuation and asset management.

"This is the second year that Todd and ACG have come to campus for this critically important Argus training seminar, and I am struck by how very practical and applied it is to actual problems the students will face once employed," said Matthew Cypher, director of the Real Estate Finance Initiative. "We believe that the spring semester timing of this training positions our students well for discussions they will have in their interviews."

JOB OPPORTUNITIES FOR HOYAS
The Real Estate Finance Initiative wants to make the following job opportunities available to our alumni. If you have interest in any of these roles, please contact Nichelle Mason at nm703@georgetown.edu.
Acquisition Analyst — Institutional investment manager in Los Angeles is seeking one analyst with zero to two years of experience to fill immediately.
Senior Financial Analyst — Real estate private equity investment firm in San Francisco is seeking a senior financial analyst who optimally graduated with an undergraduate degree from Georgetown between 2011 and 2013. Strong financial analysis and underwriting skills are required. Position available immediately.
Analyst — Institutional investment manager in Newport Beach, Ca., is seeking an analyst to join the real estate investment team. The role will principally focus on direct investment, but also could include evaluation of operating company and REIT investments. The successful candidate should have two or three years of relevant experience.
Senior Analyst — A global investment company in New York City is seeking a senior real estate analyst with up to two years of experience. The role entails assisting with the underwriting of real estate loans, monitoring the existing portfolio of loans, and site visits. General credit experience or knowledge of asset based lending is helpful.
Senior Finance Manager — Private equity firm in Washington, D.C., is seeking a recent MBA graduate or Class of 2015 MBA candidate to fill the senior finance manager role responsible for financial planning and analysis and transactional due diligence for the firm and portfolio companies. Successful candidate will have more than six years of relevant work experience with strong knowledge of accounting.

HIRE A HOYA

A new crop of real estate students is preparing to enter the working world. We hope to tap all involved for help with jobs and internship opportunities. The single biggest contribution that an individual can make at this stage in the development of REFI is employment of our exceptional students. We have compiled resume books online which are available for employers to review. If you have a job description that you want to send to real estate students, please contact Nichelle Mason at nm703@georgetown.edu.

TIME AND TALENT OPPORTUNITIES FOR ALUMNI, PARENTS, AND FRIENDS

Growth of the Real Estate Finance Initiative over the last three years has been very strong, yielding many opportunities for involvement. We created a list of possibilities for consideration that will help us build out important aspects of REFI. Many of these ideas are in the development stage, but we hope we can move the initiatives forward with your help. Should you like to discuss any opportunity, please contact Matt Cypher at mlc239@georgetown.edu.

UPCOMING EVENTS

John Carroll Weekend — Los Angeles
April 16–19, 2015

Georgetown's alumni, family, and friends will come together in Los Angeles for the university's trademark annual event, John Carroll Weekend, from April 16 to 19. The four–day weekend will be packed with social, cultural, and intellectual engagement. Real Estate Finance Initiative Director Matthew Cypher will participate in a real estate panel discussion the morning of April 16. Please attend the discussion and stay after to say hello to Matthew and hear the latest news about the initiative.

Real Estate Luminaries — April 23, 2015
Honors Blackstone's Jonathan Gray

The Real Estate Finance Initiative will honor Jonathan Gray of Blackstone as this year's luminary, as part of the initiative's ongoing Real Estate Luminaries Series. Aligned with the initiative's applied learning curriculum, the event provides current students and industry professionals access to global industryleaders. The event will be held in Lohrfink Auditorium at 5 p.m., followed by a reception in Fisher Colloquium. A registration link will be available at the end of February. Past luminaries have included Barry Sternlicht, Sam Zell, David Simon, and Ralph Rosenberg.

Georgetown University McDonough School of Business
Rafik B. Hariri Building | 37th & O Streets NW | Washington D.C. 20057
http://msb.georgetown.edu


If you don't want to receive updates, please

unsubscribe