Greg Frazier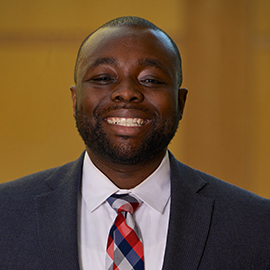 Business Coordinator
What do you like best about your job?
"I love finance and accounting, so I really appreciate working on budgets, forecasting, and analyzing McDonough's financials. I'm also proud that I'm one of the team members at the school that the staff and faculty can depend on for all types of financial questions and concerns."
What do you like best about being at Georgetown McDonough?
"The best part of working at McDonough is definitely the environment. I love that not only am I able work with such a variety of different professionals, but the one-on-one relationships make it more open, personal, and welcoming."
What's the last song you listened to?
"As anyone can guess by the amount of time I'm coming and going with my headphones on, I'm always listening to music. I don't really have a favorite song, but the album I currently have on constant repeat is J. Cole's '2014 Forest Hills Drive.'"
Describe a "perfect day" at work.
"The only thing that can make a day perfect for me is variety and change. I don't like to remain stagnant or do the same thing all day every day, so anytime I'm doing something challenging or completely out of my wheelhouse, that's awesome."
What are your hobbies?
"I'm a total nerd, so my iPad is full of comic books, but my favorite activities are weightlifting, bench, squat, and deadlift…that's my weekend."
Clark Mason Bohne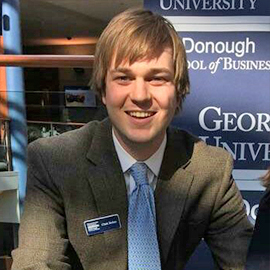 President, Student Government Association
Before coming to Georgetown, where did you do you undergraduate work, and where did you work professionally?
"Before coming to Georgetown, I went to the University of Virginia, where I was an English major and French minor. I worked for about four years in New York City. I first worked at the Clinton Foundation in Harlem, where I helped coordinate Bill Clinton's personal schedule. After the Clinton Foundation, I worked in a variety of roles at Bloomberg LP in New York; in my last role, I was a sales representative for clients in Toronto and Montreal."
What do you like best about being at Georgetown McDonough?
"Bar none, the people. I try to take advantage of the opportunities we're given here to interact with different student groups. As an example, I really enjoyed learning about cricket when I went to a viewing of the India/Pakistan Cricket World Cup game hosted by our South Asian Business Alliance."
How would you describe a perfect day on the Hilltop?
"For me, a perfect day has variety. I love interspersing the distinct with the prosaic. A perfect day would include class, meetings, and some productive homework time, but it also would include a trip or activity that makes my day unique. A few recent examples of those experiences are seeing Shaquille O'Neal speak, going for a run to the Washington Monument, or having a group dinner with Georgetown friends at The Tombs."
Tell us a funny story about being at Georgetown or in Washington.
"I recently went on a tour of the West Wing of the White House, which was a really great experience. However, the sidewalks were incredibly icy that day and I ended up falling into a pile of slush right before I went on the tour. I think I'm banned from ever going back due to my appearance that day."
What's the most recent movie you've seen?
"American Sniper"
What are your hobbies?
"I really like maps. My father works for the National Marine Sanctuaries program, so I grew up with nautical charts all around the house. Two of my favorite personal possessions are a street-level map of Soho in New York (where I used to live) and a nautical chart of Savannah, Ga. (where I grew up)."
Catherine Tinsley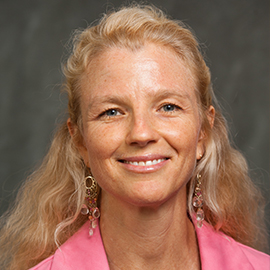 Professor of Management Executive Director, Georgetown University Women's Leadership Initiative
What are your areas of research?
"I have two main areas: The first is understanding gender dynamics in the workplace. Why, after decades of diversity programs and discussions about women's empowerment, do we still have so many women leaving the workforce and so few women promoted to top leadership? Why do we still have a wage gap? How can organizations improve their retention of high performing women, and what strategies can individual women employ to make progress in the workplace?
The second area is improving individual and organizational decision making. Why do smart people who are trying really hard still make poor decisions? How do organizations systematically and inadvertently reduce decision quality? What systems and structures can leaders put in place to improve employee (and hence organizational) decision making?"
What makes you smile?
"Hugs – from my spouse, my friends, my kids."
What do you like best about being at Georgetown McDonough?
"My colleagues. Some of the people here are just extraordinary. They are intelligent, articulate, generous, and concerned about making the world a better place.
What's the last book you read?
"I love mysteries. It is one of my escapes. My last book was Sharp Objects by Gillian Flynn (author of Gone Girl)."
What are your "must-haves" in your carry-on?
"FOOD – they never feed you enough on flights – or at least not enough healthy things (cut up vegetables, nuts). Also, if it's an overnight flight, then ear plugs. I know they give them out, but I like the wax ones; they're more sound-proof.
What are your hobbies?
"Ha ha! Who has time for that? Seriously, though, I think my research is actually my hobby. It is something my mind drifts to when at rest. They are interesting, fun puzzles to try to help solve."