Executive Education, Innovation Expert to Become New McDonough School of Business Dean

Paul Almeida, deputy dean of executive education and innovation at Georgetown's McDonough School of Business, will become the school's new dean on Aug. 1.

Almeida, an expert in business innovation, knowledge management and alliances, as well as information collaborations across firms and countries, first came to Georgetown in 1995.

Currently a professor of strategy and international studies at McDonough, he served as senior associate dean for executive programs between 2010 and 2016. The author of numerous scholarly articles, he also will become the William R. Berkley Chair at the school in August.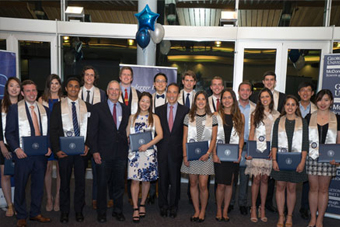 Inaugural Global Business Fellows (GBF) Class Graduates
As part of Georgetown University McDonough School of Business's commitment to be known as the premier destination for global business education, in 2015 the school partnered with the university's Walsh School of Foreign Service to launch the Global Business Fellows (GBF) Program. In May 2017, the first cohort of 20 students graduated, 9 from Georgetown McDonough and 11 from the School of Foreign Service (SFS).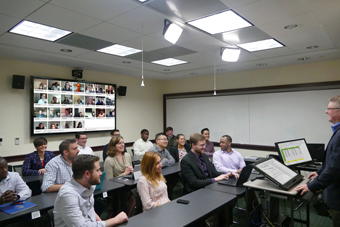 MSF Program Ranked 2nd for Online Finance Programs
In a recent ranking by Best Choice Schools, the Master of Science in Finance (MSF) program at Georgetown's McDonough School of Business was named #2 for the best online schools for finance.

Second only to Harvard University, Georgetown McDonough's MSF was noted for being career focused and designed for working professionals. The blended program is available online or in-person on the Georgetown campus to all participants. It features online lectures, weekly MSF Live sessions where faculty lead students in a case discussion, and a global consulting project, most recently in South Africa.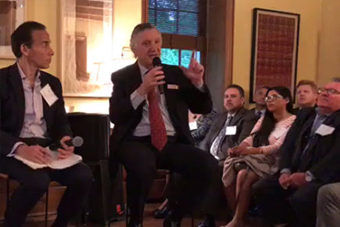 D.C. Embassy Series: Reception at the Peruvian Ambassador's Residence
The Global Business Initiative and the Georgetown McDonough Office of Alumni and External Relations hosted the latest installment of the D.C. Embassy Series at the Peruvian Embassy Residence. Georgetown alumni and students attended a conversation between Peruvian Ambassador to the U.S. Carlos Pareja and Georgetown McDonough Professor Ricardo Ernst on global leadership, commerce, and the bilateral relationship between Peru and the United States. A special thanks to the Embassy of Peru in the United States and the D.C. Alumni Ambassadors for hosting a wonderful event.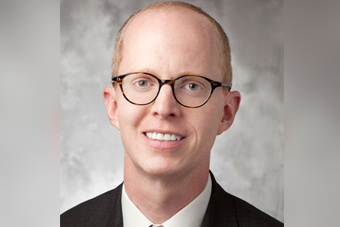 Jay Jacobs Named Distinguished Global Fellow
Georgetown's McDonough School of Business has appointed Jay Jacobs (MBA'98), outgoing president and managing director of PIMCO, as a Distinguished Global Fellow. He will begin his three-year appointment with the Georgetown Center for Financial Markets and Policy and the Global Social Enterprise Initiative in January 2018.

The Distinguished Global Fellows Program connects individuals who are prominent in their fields with students, faculty, and staff to enrich the academic experience, provide mentorship opportunities, build partnerships in the public and private sectors, and to further engage with the global business community.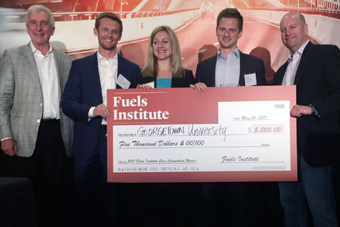 MBAs Win Fuels Institute's Student Competition
Three students from Georgetown University's McDonough School of Business took top honors at the 2017 Fuels Institute Case Competition in Denver, Colorado, for their proposal on incorporating liquefied natural gas into the U.S. transition to autonomous vehicles.

The case competition's theme, "Introducing a New Transportation Energy System," asked each student team to establish a plan for introducing a new fuel (non-specific source of energy) and light-duty vehicle configuration into the market by leveraging historic experience and demonstrating the return on investment for fuel producers, vehicle manufacturers, fuel retailers, and consumers. Students were asked to develop a market strategy that could enable an alternative fuel and vehicle to enter the market and satisfy consumers in the most efficient, cost-effective manner.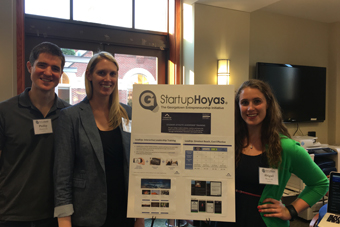 StartupHoyas Summer Incubator Program Hosts Student and Alumni Entrepreneurs
The StartupHoyas Summer Launch Program at Georgetown University's McDonough School of Business is hosting 13 entrepreneurial ventures this summer in its startup incubator program.

Now in its seventh year, the eight-week program is designed specifically for current Georgetown students and recent graduates who want to launch a new venture. The nearly two dozen students and alumni receive dedicated support from Georgetown faculty, mentors, and other experienced entrepreneurs; work space in the business school's Rafik B. Hariri Building on the Georgetown campus; a stipend to support their efforts; introductions to local investors and entrepreneurs; invitations to exclusive networking events; and the opportunity to present their ideas to the D.C. entrepreneurial community.


The Premier Destination for Global Business Education

Georgetown University McDonough School of Business

Rafik B. Hariri Building | 37th & O Streets NW | Washington D.C. 20057

http://msb.georgetown.edu