MBAs Participate in The Executive Challenge

Why would someone want to be led by you? That is the key question asked of all Georgetown McDonough MBA students in the required Leadership Communications course.

To help students find out the answer, nearly 100 alumni returned to campus to role play as executives in three cases that were graded as the final exam of all first-year Full-time MBA students on Friday, April 28.

"You can't teach business communications in a lecture hall," said Evelyn Williams, teaching professor of management. "The Executive Challenge brings real experience into the classroom and asks students to face uncertainty in situations that simulate what executives deal with every day."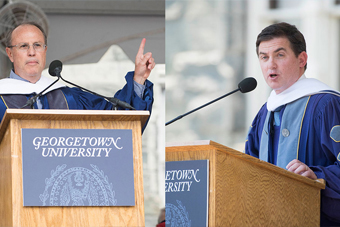 Executives from WeWork and BuzzFeed Address Business Graduates
Staying true to one's values and spreading good karma are just some of the advice bestowed upon the Georgetown McDonough School of Business Class of 2017.

Arthur Minson Jr. (B'92): "The players who play best together usually win. So always get on the teams with people who put the good of the team over personal agendas. Your personal brand and your reputation are everything, so make sure you work with people who share your values."

Gregory Coleman (B'76): "It's a tough world out there, and we're living in really interesting times. Be one of the good people. We who have had the privilege of a Georgetown education have much to give back. Please be generous with your time and talent."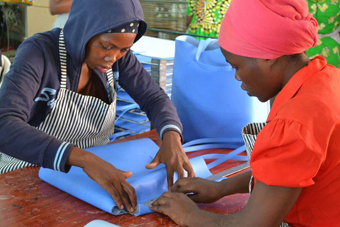 Empowering Women in Global Supply Chains
The 150 women artisans in Masoro are employees of Abahizi Dushygikirane Corporation or ADC, the supplier of Kate Spade & Company's on purpose label. ADC is Rwanda's premier handbag manufacturing partner providing high-quality products to the global fashion industry with a social commitment to empower its employees and transform its community.

Professors Catherine Tinsley, Pietra Rivoli, and Edward Soule at Georgetown University's McDonough School of Business conducted a 23-month study of on purpose and monitored this "social enterprise supplier model"; evaluated whether ADC's employment experience provided vital resources; and assessed how artisans flourished economically, socially, and psychologically.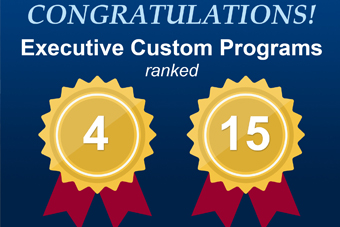 Financial Times Ranks Executive Custom Programs #4 in U.S.
Georgetown McDonough's Executive Custom Programs are ranked #4 in the United States and #15 in the world, according to the latest Financial Times Executive Education ranking.

"Our corporate clients choose Georgetown for many reasons, ranging from our depth of experience in global business, our geopolitical expertise, or our location in Washington, D.C.," said Paul Almeida, deputy dean for executive education and innovation. "They also recognize our reputation for building impactful, customized programs tailored to meet their specific goals."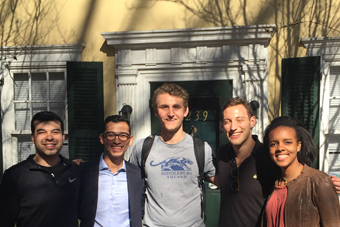 Undergraduates to Live in Entrepreneurship Townhouse
The Georgetown Entrepreneurship Initiative has invited six undergraduate students to live in the Yellow House for Entrepreneurship, a local townhouse that will serve as an on-campus site for entrepreneurial activity throughout the 2017-18 school year. The house's spaces, including its living room, dining room, and patio, will host various community-building entrepreneurship activities, such as StartupHoyas club meetings and activities, meetings with Georgetown's Entrepreneurs in Residence, and incubator sessions. The students will assist in the planning and execution of these events.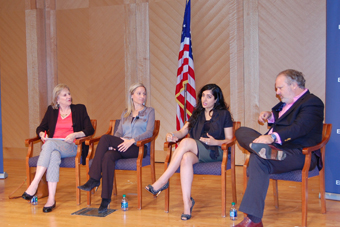 Industry Experts Discuss Sustainability of Fast Fashion
As retail companies respond to the demand to provide consumers with more, cheaper, and faster products, many leading fashion companies have gained reputations for being polluters, human rights abusers, or outliers in the movement toward social responsibility. In April, the Global Social Enterprise Initiative at Georgetown University's McDonough School of Business explored these trends during a discussion on "Is Fast Fashion Sustainable?"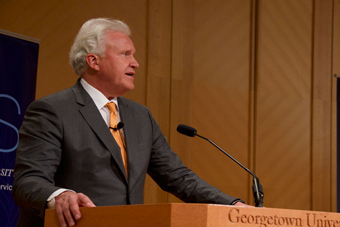 GE CEO Jeff Immelt Discusses Globalization
Jeff Immelt, the chairman and CEO of General Electric (GE), visited Georgetown University on May 4 to discuss globalization and the role of private and public leaders in ensuring the ability of the United States to compete in global markets. The Walsh School of Foreign Service, McDonough School of Business Stanton Distinguished Leaders Series, and Landegger International Business Diplomacy Program hosted the event.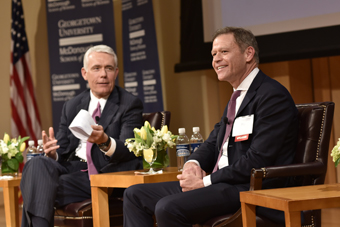 Ric Clark Headlines Real Estate Luminaries Series
On Thursday, April 20, the Steers Center for Global Real Estate, in partnership with HFF and CRE Finance Council (CREFC), held its annual Real Estate Luminaries Series program. The event featured globally recognized leaders in the real estate investment industry who provided their views on the state of the real estate marketplace.

This year's line-up included an interview with Ric Clark, senior managing partner and chairman of Brookfield Property Group. Mark Gibson, CEO and executive managing director of HFF, interviewed Clark.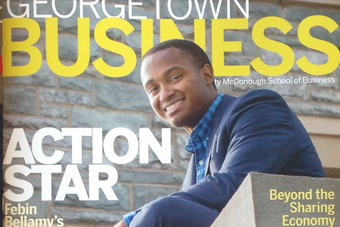 Georgetown Business Magazine Releases Spring Issue
Georgetown Business is the alumni magazine of Georgetown University's McDonough School of Business. In this issue: How one student created a social impact organization to celebrate university workers; alumni from Airbnb, Uber, and more reveal what makes the sharing economy work; 60 years of research at Georgetown McDonough; and much more.


The Premier Destination for Global Business Education

Georgetown University McDonough School of Business

Rafik B. Hariri Building | 37th & O Streets NW | Washington D.C. 20057

http://msb.georgetown.edu