MBA VCIC Team Wins Global Title

Georgetown's Venture Capital Investment Competition team placed first at the 2017 global finals held April 7-8 at the University of North Carolina, Chapel Hill. Seventy business schools from around the globe participated in the graduate-level VCIC competition, in which a panel of venture capitalists judged how well each team analyzed startup companies, interviewed entrepreneurs, pitched a deal, and negotiated terms. Georgetown's team included Chris Cottrell (MBA'17), Shreya Adiraju (MBA'17), Sofocles Papas (MBA'17), Chris Ahern (MBA'17), and Elaine Chen (L'18).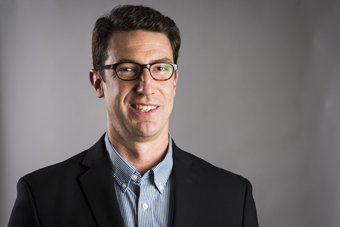 Advantages of Losing Employees to the Competition
Despite conventional thinking, losing employees to competing organizations is not always detrimental to companies, and employee departures actually can help with recruiting by enhancing employer status. New research by Chris Rider associate professor of strategy examining Am Law 200 firms over a span of nine years reveals there is a strategic tradeoff in employee retention – when employees leave a firm for a higher-status position, the organization's competitive position in the labor market can improve.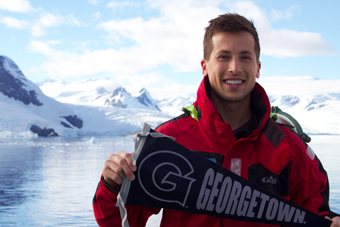 MBA Student Runs Marathon in Antarctica to Promote the Healing Power of Music
After months of early-morning runs during Washington, D.C.'s relatively mild winter, Nick Stukel (MED/MBA'18) traveled to King George Island, Antarctica, in March to compete in his fifth marathon in three years. Stukel, who aspires to be the first medical student to run a marathon on every continent, is promoting what he calls "the healing power of music" through the global marathon initiative he started, Strums & Strides.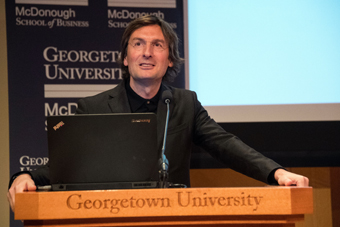 Fendi CEO Makes Brand Connection to Success
Pietro Beccari, chairman and CEO of Fendi, spoke to the Georgetown community about the implementation of his successful five-year plan to improve the company by focusing on its products, stores, and communications. The Georgetown Retail and Luxury Association hosted Beccari, who joined Fendi after serving as the executive vice president of marketing and communications at Louis Vuitton.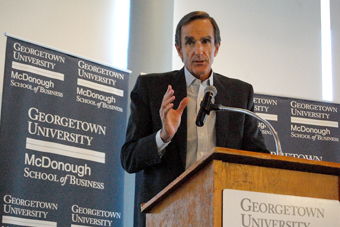 Private Equity Company Leader Talks Emerging Markets
Fernando Gentil, co-founder and co-head of G5 Evercore Private Equity, spoke at Georgetown's McDonough School of Business about his decision to establish a private equity fund management company in his native country of Brazil. He was hosted by the Stanton Distinguished Leaders Series, which invites renowned leaders to Georgetown's campus to discuss their experiences with students, faculty, and alumni, and stayed an additional hour to answer student questions.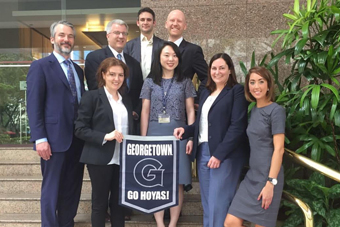 EMBA Students Visit 10 Countries For Global Capstone Residency
In early April, students in the 22nd cohort of Georgetown McDonough's Executive MBA (EMBA) program traveled to 10 countries, including Argentina, China, Cuba, the Dominican Republic, Germany, Ireland, Nicaragua, Panama, Singapore, and Spain. During the week-long trips, students researched six projects focused on apprenticeships, automobile technology disruptions, smart city big data, economic expansion in Cuba, Formula One racing, and the global gaming industry. Each project is comparative across at least two countries. The global capstone residency marks the culmination of the 20-month EMBA program. Students will discuss their work with panels of experts and the Georgetown community during a knowledge-sharing symposium on Friday, April 28.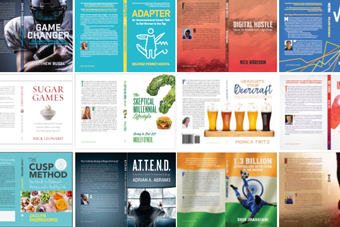 Undergraduates Learn Entrepreneurship Through Authorship
How does a student land his or her dream job in today's world? How can an aspiring entrepreneur launch a new product or service? An innovative new class at Georgetown's McDonough School of Business developed a radical way for entrepreneurship students to stand out: write a book. "People say you can't 'teach' entrepreneurship," said Eric Koester, adjunct professor and entrepreneur-in-residence, "so I decided to create a course to experience entrepreneurship first-hand by creating a book that would demonstrate the student's purpose. And the crazy thing was, it actually worked."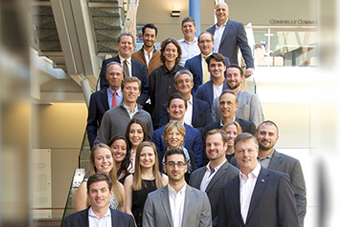 Georgetown Entrepreneurship Initiative Announces Spring 2017 Leonsis Prize Winners
Several of Georgetown University's most promising entrepreneurs can now further their business ventures, thanks to the support from the Leonsis Family Entrepreneurship Prize, which provides funding for students and recently alumni who have launched or are preparing to launch new businesses.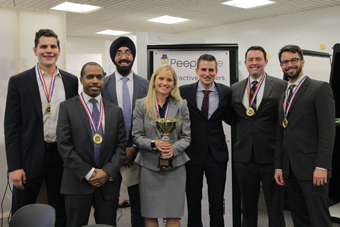 MSF Students Win Peeptrade University Challenge
In April, a team of 10 students from Georgetown McDonough's Master of Science in Finance (MSF) program won the Peeptrade University Challenge, a two-month-long competition in which teams from eight top business schools competed to best manage a $10,000 portfolio. The MSF students competed against graduate business teams from INSEAD, IPADE, ITESM, London Business School, Princeton University, University of Southern California, and Illinois Institute of Technology. Distinguished Teaching Professor Thomas Cooke and Associate Professor James Angel advised the team.


The Premier Destination for Global Business Education

Georgetown University McDonough School of Business

Rafik B. Hariri Building | 37th & O Streets NW | Washington D.C. 20057

http://msb.georgetown.edu