Financial Times Ranks Georgetown MBA 18th

In its annual Global MBA Ranking, the Financial Times lists Georgetown McDonough's Full-time MBA program 18th in the United States and 40th in the world, up from 19th and 44th last year.

The Financial Times places a strong emphasis on the success of alumni three years after graduation, as well as the international character and diversity of the school. This year's success can be attributed to several metrics, including a large increase in the percentage of students employed three months after graduation, students' international experiences, alumni salary increases, and the diversity of Georgetown McDonough's community.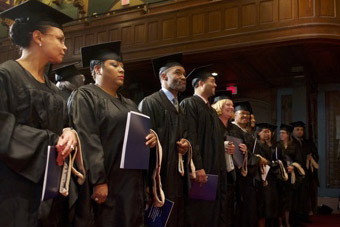 DCPS Executive Master's in Leadership Recognized as an "Innovation that Inspires"
The D.C. Public Schools Executive Master's in Leadership (DCPS EML) program at Georgetown McDonough was recognized as an Innovation that Inspires by AACSB International at its annual Deans Conference on Feb. 4.

The DCPS EML, now known as the D.C. Public School Leaders EML with the addition of the city's charter schools, was one of 35 innovations highlighting institutions that serve as champions of change in the business education landscape. AACSB received a total of 315 submissions across 33 countries.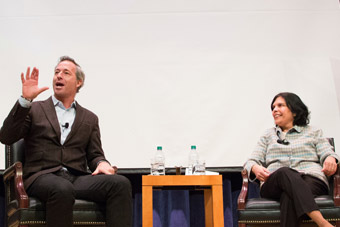 Airbnb CFO Laurence Tosi Shares How to Think Like a Founder
Alumnus Laurence Tosi, chief financial officer of Airbnb, spoke at Georgetown University on Wednesday, Feb. 8., about the changing environment for business and what distinguishes the best companies from the average companies. Tosi spoke with Reena Aggarwal, Robert E. McDonough Professor of Business Administration, director of the Georgetown Center for Financial Markets and Policy, and vice provost for faculty, at an event sponsored by the center and the McDonough School of Business Stanton Distinguished Leaders Series.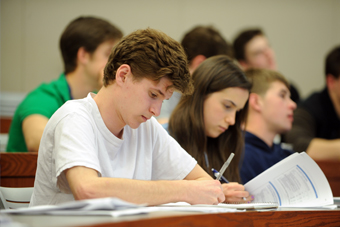 Students Launch Mentorship Initiative for MBAs and Undergraduates
Georgetown McDonough students Elida Ruiz (MBA '18) and Tiffany Huang (MBA '18) have launched the "Learn More from Current MSB Students and Mentorship Initiative," a program that will connect MBA students of various professional backgrounds with their peers and undergraduate students. The initiative will feature MBA students from a particular industry twice a month in a panel-style discussion open to Full-time and Evening MBA students and undergraduates. If students identify with a particular panelist, then they may connect to establish a mentorship arrangement.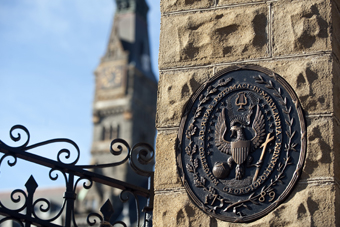 Georgetown McDonough Launches M.A. in International Business and Policy
The inaugural cohort of the M.A. in International Business and Policy – a 12-month joint program with Georgetown's McDonough School of Business and Walsh School of Foreign Service – started in January with a one-week module. The cohort of 28 students, with an average of nine years of professional experience and an average age of 33 years old, speaks 21 languages. Nearly 60 percent of the students are female, and nearly one-third hold international citizenship. The program consists of six week-long intensive residencies and two four-week online courses.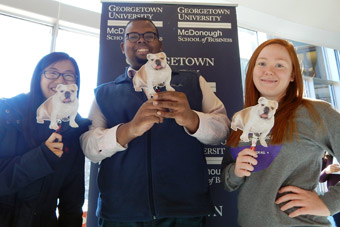 Bagels with the Deans Kicks Off Spring Semester with Anniversary Celebration
As part of the school's 60th anniversary celebration, Georgetown's McDonough School of Business kicked off the spring semester on Jan. 26 with a special anniversary-themed Bagels with the Deans. Hosted every Thursday morning during the academic year, Bagels with the Deans treats Undergraduate Program students to bagels, coffee, juice, and conversation.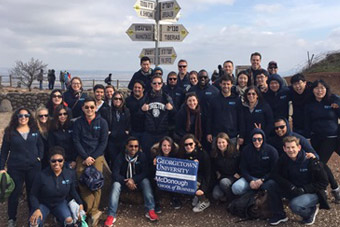 MBAs Embark on Entrepreneurship Career Trek in Israel
Several MBA students spent part of their winter breaks traveling domestically and internationally to network and learn about specific industries through Career Treks.

A group of 35 students traveled to Israel on the first student-led international trek for the MBA program to explore the business ecosystem and culture of entrepreneurship.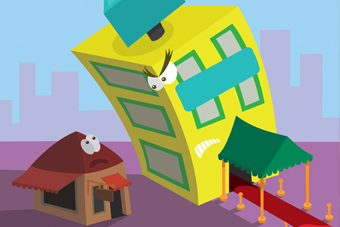 Marketing Small Businesses to Compete with Goliaths like Amazon
It is a tough marketplace for small businesses today, as they compete against superstores like Walmart and online retail giants like Amazon, which recently reported its best-ever holiday shopping season. Unfortunately, smaller companies often are seen by consumers as less competent, making it more likely that they will lose out to larger, more established competitors. So, how do small businesses compete against these goliaths? New research published this month in the Journal of Marketing shows that if service providers emphasize both their morality and their underdog status, consumers will be more forgiving about what they lack in competence and choose them more often.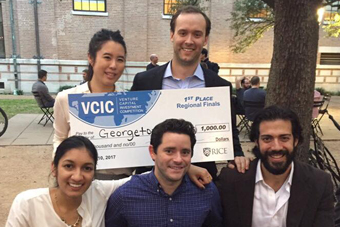 Venture Capital Investment Competition Team Advances to Global Finals
On Friday, Feb. 10, Georgetown's Venture Capital Investment Competition team won the South Region VCIC in Houston, Texas, advancing them to the competition's Global Finals in April. The team, which comprises Chris Cottrell (MBA '17), Shreya Adiraju (MBA '17), Sofocles Papas (MBA '17), Chris Ahern (MBA '17), and Elaine Chen (L '18), will travel to Chapel Hill, North Carolina, to compete against the winning teams from 11 other regions across the world. Georgetown is in the running with approximately 70 other business schools for the championship title, which it won in 2013 and 2015.


The Premier Destination for Global Business Education

Georgetown University McDonough School of Business

Rafik B. Hariri Building | 37th & O Streets NW | Washington D.C. 20057

http://msb.georgetown.edu