UG Program Ranked 4th by Poets & Quants

Poets & Quants listed Georgetown McDonough fourth in its inaugural ranking of the 50 best U.S. undergraduate business programs. Poets & Quants, a leading online publication for graduate and undergraduate business education news, equally weighted three categories in calculating the ranking: Admissions Standards (quality of incoming students); Alumni Perspective on the full educational experience (through a survey of the Class of 2014); and Employment Data (internships, full-time employment, and compensation data).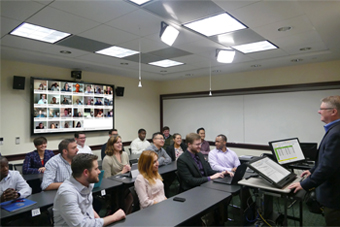 U.S. News Ranks McDonough 7th for MSF
U.S. News & World Report listed Georgetown's McDonough School of Business 7th in its annual ranking of online graduate business degrees. This is the first year that McDonough, which now offers a blended Master of Science in Finance (MSF), was eligible for the ranking.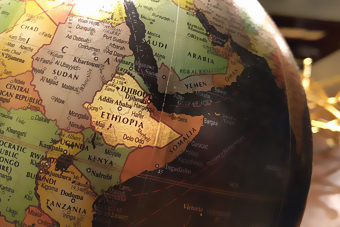 EMBA Class of 2016 Opens Orphanage in Ethopia
Through generous donations from more than 50 percent of Georgetown McDonough's Executive MBA (EMBA) class of 2016, an orphanage has opened in Lalibela, Ethiopia, that houses eight girls between the ages of 14 and 18.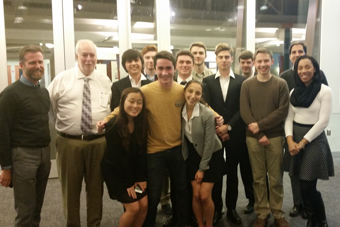 Student Group One Bridge -- Two Communities Wins Case Competition
Undergraduates in the First Year Seminar (FYS) recently participated in the program's annual case competition. The student group One Bridge - Two Communities took first place with a presentation that implemented the vision of the Local Initiatives Support Corporation of Washington D.C.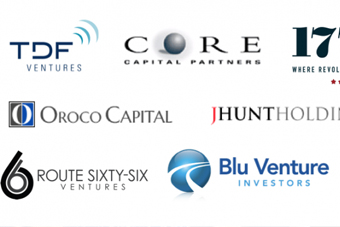 Venture Fellows Program Takes Students from MBA to VC
Breaking into venture capital right out of an MBA is not an easy task. But, it's a challenge that Georgetown's MBA program is meeting head on with a new apprenticeship program at the McDonough School of Business.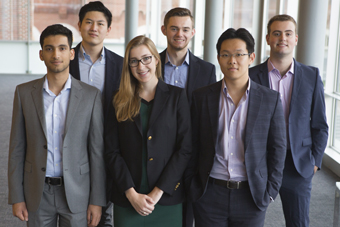 Steers Center for Global Real Estate Launches Student-Led Investment Fund with $100K Seed Funding
The Georgetown University Public Real Estate Fund (GUPREF), which launched last semester, secured $100,000 through its partnership with the Steers Center for Global Real Estate. The student-run fund will invest in publicly traded real estate debt and equity.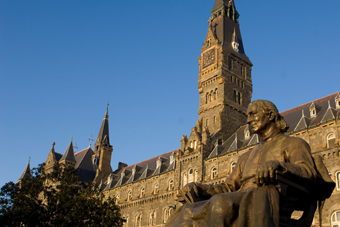 GISME Promotes Interdisciplinary Discussion and Awareness of Ethics Among Students
In November, the Georgetown Institute for the Study of Markets and Ethics (GISME) hosted a seminar titled "Ethics Across the Curriculum." Fourteen graduate students from Georgetown and other universities across the United States and Canada were recruited from a variety of disciplines.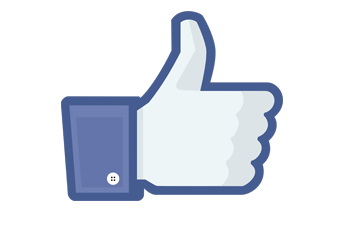 A Conversation with Facebook CMO, January 18
Lohrfink Auditorium, Rafik B. Hariri Building, Georgetown University

Join Facebook CMO Gary Briggs in the Hariri Building's Lohrfink Auditorium on January 18 at 6:30 p.m. for a conversation on his career in Silicon Valley, Facebook's impactful global projects, and technology in politics. Organized by the Georgetown McDonough Office of Alumni and External Relations, the Undergraduate Office of Professional Development, and the Georgetown International Relations Club Academic Programming Board.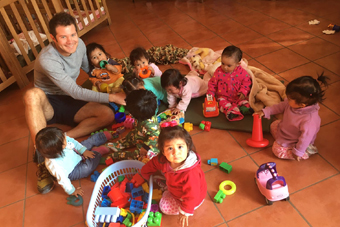 MBA Students Spend Fall Break Volunteering at a Local School in Mexico
Over fall break, 10 full-time and evening MBA students traveled to San Miguel de Allende, Guanajuato, Mexico to volunteer at Casa de los Ángeles, a free daycare center for orphans and children of single mothers. The trip was organized through the MBA Student Government Association.




Georgetown University McDonough School of Business

Rafik B. Hariri Building | 37th & O Streets NW | Washington D.C. 20057

http://msb.georgetown.edu