Secretary of Commerce, Humana CEO Address Graduates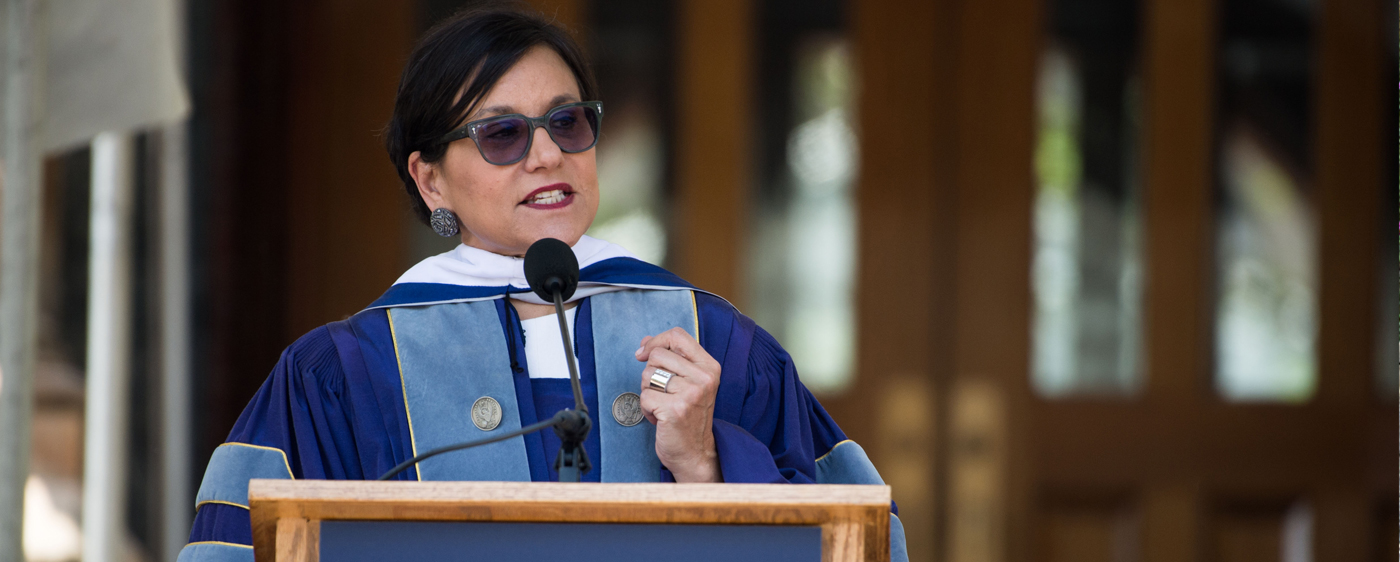 Drawing upon her distinguished career as an entrepreneur and business leader, Secretary of Commerce Penny Pritzker addressed the students at the Georgetown McDonough School of Business graduate commencement on Healy Lawn Friday, May 20. She encouraged the MBA, Master of Science in Finance, Executive MBA, Executive Master's in Leadership, and Executive Master's in International Business graduates to be "a force for good." To view the video of the ceremony, visit http://www.ustream.tv/recorded/87117913.

The next afternoon, Bruce Broussard, president and CEO of Humana, shared his story with the undergraduate Class of 2016: "If you start from a place of serving others first, you will be more successful," he said. "Be humble. Be gracious. Serve others. You will get all you want in life if you help enough others get what they want." To watch the full ceremony, visit http://www.ustream.tv/recorded/87171966.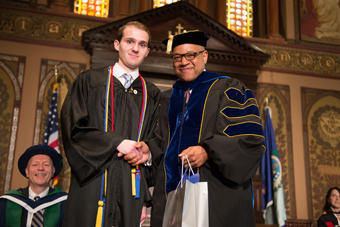 Undergraduate Students and Faculty Honored During Tropaia
Students graduating with honors from the Georgetown University McDonough School of Business Undergraduate Program were recognized Friday, May 20, during the school's annual Tropaia Ceremony.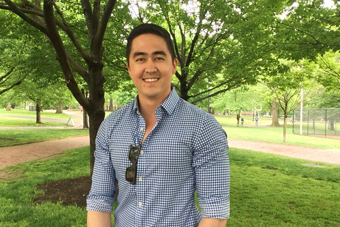 MBA Alumnus Named 30 Under 30 in Sustainable Business
Miguel CuUnjieng (MBA '15), corporate program manager at Ceres, Inc., has been named one of the "30 Under 30" people to watch in sustainable business by GreenBiz Group, a media and events company in corporate sustainability.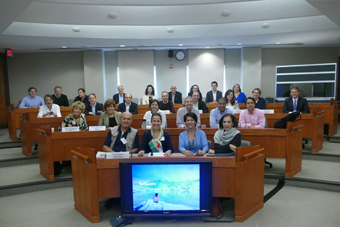 Colombian Executives Study Transformational Leadership
Centro De Liderazgo y Gestión (CLG), a center for transformative business leadership in Colombia, recently completed a four-day course with the Office of Executive Education. CLG came to Georgetown McDonough seeking an educational partner to design and deliver a module for its flagship program for senior Colombian business executives.

The 24 participants studied the global environment of business, strategic tools and frameworks for leading organizational change, sources of power and influence, and leadership and sustainability. They visited the NASA headquarters for discussions on risk-taking and organizational learning with senior NASA executives, including Chief Scientist Ellen Stofan. On their final day, the group heard from guest speakers from the Inter-American Development Bank and concluded their program with a graduation ceremony in Georgetown's historic Riggs Library.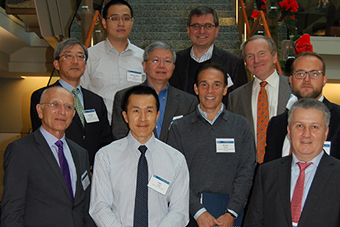 Wave of Restructuring Global Supply Chain Strategies
Georgetown University's McDonough School of Business joined other top business schools in a multi-year research effort focused on trends in the global supply chain.

The research, co-authored by Ricardo Ernst, professor of operations and director of the Global Business Initiative at Georgetown McDonough; Shiliang Cui, assistant professor of operations and information management at Georgetown McDonough; and seven other leading global supply chain experts, sheds light on what production sourcing decisions are currently being made, what drives these decisions, and what happens as a result.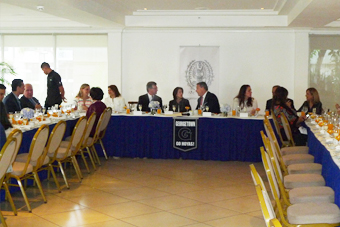 Executive MBAs Conduct Global Field Research
Recently graduated Executive MBA students traveled around the world in March as the culmination of the Global Industries, Environments, and Strategies second-year capstone course. It integrates the EMBA course curriculum through student-designed, in-country experiential field research-based projects.

This year, 48 students traveled to China, Germany, Panama, Hong Kong, Ethiopia, and Cuba to work on a diverse group of projects, including a study of the impact of an expansion of the Panama Canal, recommendations for an integrated response to the refugee crisis in Europe, and an assessment of the opportunities for American businesses in Cuba. For photos of Executive Education global experiences, visit @Georgetown_Exec on Twitter and @Georgetown_exec on Instagram.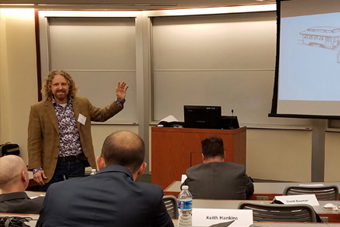 A New Approach to Ethics Pedagogy
In May, the Georgetown Institute for the Study of Markets and Ethics held its first "Workshop on Teaching Professional Ethics through Experiential Learning." The two-day workshop, held May 14-15 at Georgetown's McDonough School of Business, brought together 16 professors from across the country for sessions to learn the institute's unique approach to ethics pedagogy. The faculty will take the knowledge they gained back to their home institutions to use in their classrooms.

"The purpose of this workshop isn't to present you with a course syllabus and say 'here's what to do,'" John Hasnas, executive director of the institute and professor of ethics, told the participants. "The purpose is to expose you to a variety of useful techniques."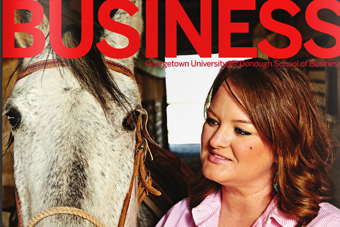 Summer Reading: New Issue of Georgetown Business
The spring issue of Georgetown Business, which hit mailboxes in mid-May, highlights Georgetown McDonough faculty, students, and alumni, including:
April Bonds (MBA '13), Michael Thomson (MBA '13), and Tarick Gamay (B '07), on the rewards and challenges of joining the family business;
Alan Eberhart, Paul Almeida, Jeff Reid, and current MSF students on Georgetown McDonough's innovative teaching solutions; and
Simon Blanchard on the "favor request effect" in negotiations.
Pick up a copy of the magazine from Hariri's Suite 211 or read the stories online at http://bit.ly/GtownBiz.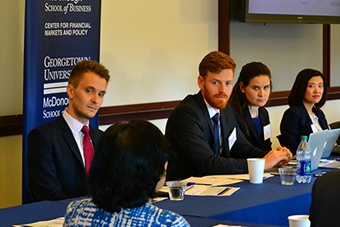 Tutorials Provide Real World Experience for MBAs
This spring, first- and second-year MBA students completed several tutorials with faculty, from a report on the complex regulatory landscape of financial technology (FinTech) to an investigation of financial reporting and transparency issues in state-owned enterprises to work with venture capital (VC) firms in D.C.

The tutorials offer students a unique and flexible way to explore topics in more depth and to work directly with distinguished professors.


Georgetown University McDonough School of Business

Rafik B. Hariri Building | 37th & O Streets NW | Washington D.C. 20057

http://msb.georgetown.edu