Georgetown McDonough Announces Commencement Speakers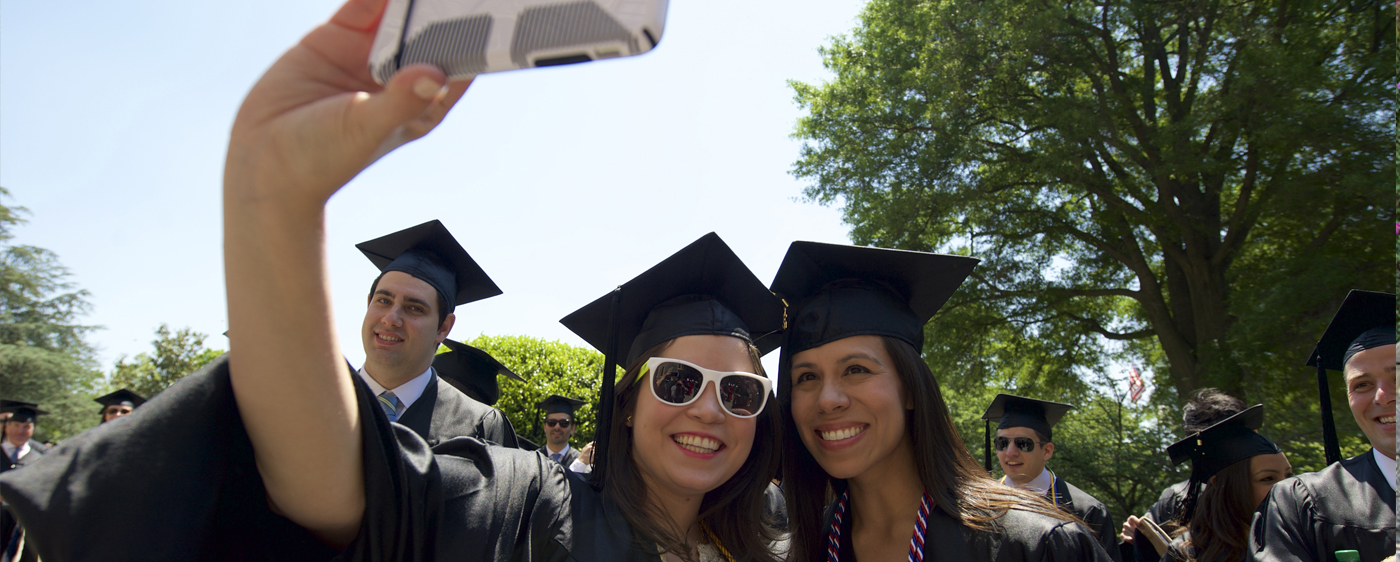 Secretary of Commerce Penny Pritzker and Humana President and CEO Bruce Broussard will speak at the commencement events for Georgetown University's McDonough School of Business.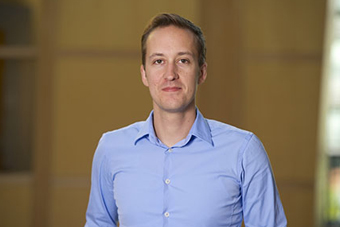 The Favor Request Effect: Requesting a Favor from Consumers to Seal the Deal
The old adage "ask and you shall receive" is put to the test in a new study published this month in the Journal of Consumer Research. The paper explores whether there is something simple a seller can do to close a negotiation and found consumers are more willing to accept an offer when the seller also requests a favor from them.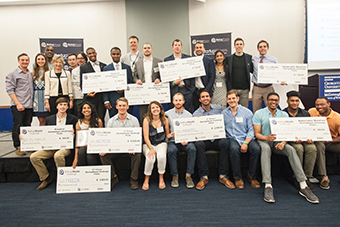 Georgetown Celebrates Student Entrepreneurs
On April 26, the Georgetown Entrepreneurship Initiative held Entrepalooza, its annual pitch competition and end-of-the-year celebration of entrepreneurship. Eight student teams pitched their business ideas, with the winners receiving more than $20,000 in prize money. The evening also included the presentation of the 2016 Outstanding Alumni Entrepreneur awards, as well as awards for students, faculty, and volunteers.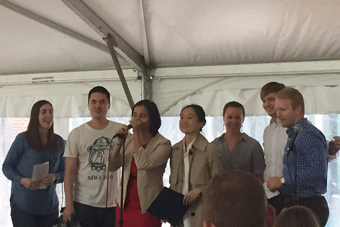 MBA Program Honors Students, Faculty, and Staff
At the traditional end-of-year barbecue, the Georgetown McDonough MBA program and students presented several awards to students, faculty, and staff.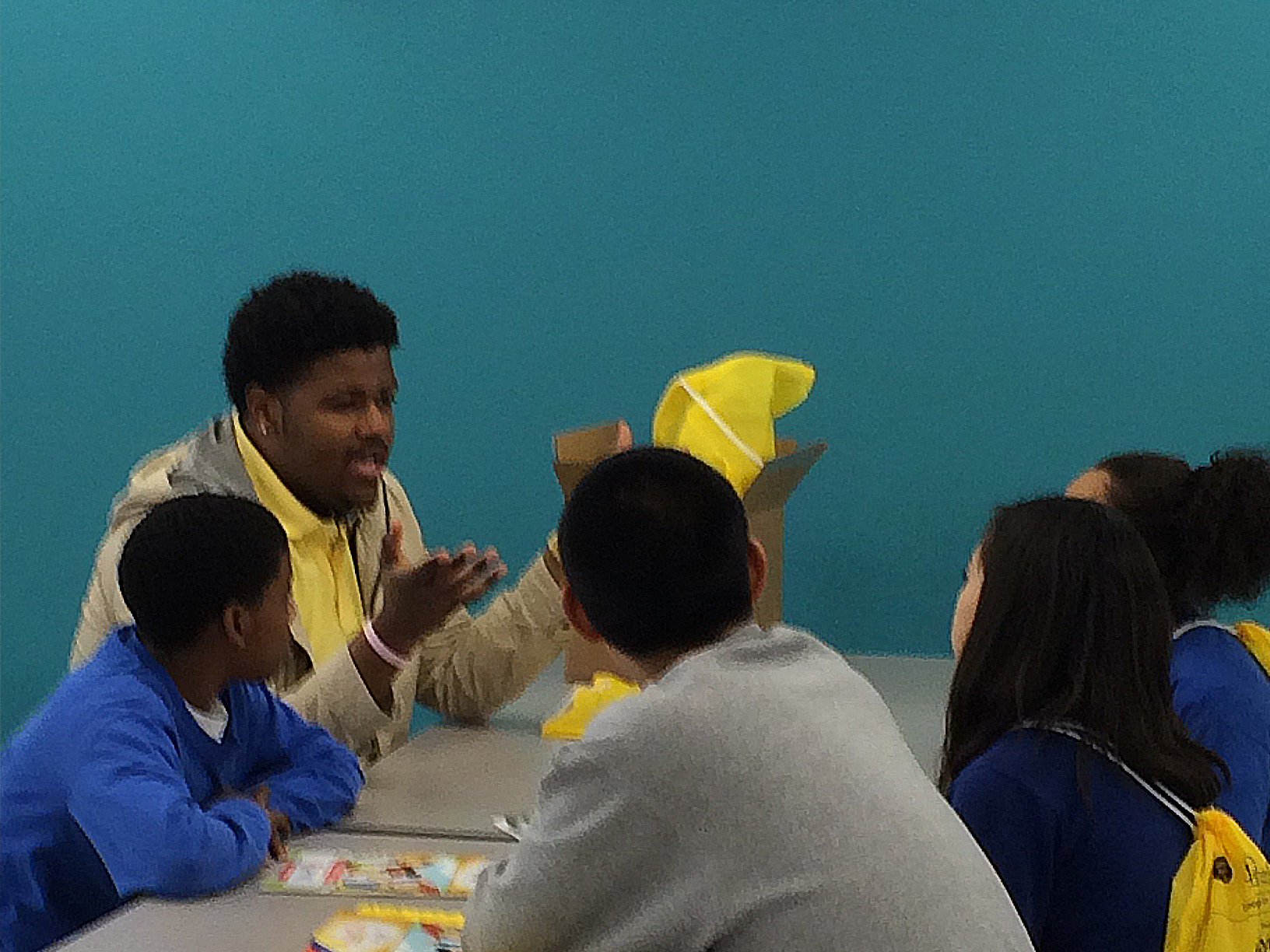 Students Mentor Area Children Through "Lemonade Day"
For some children, starting a lemonade stand is a rite of passage. For others, the front yard, "$.50 a glass" signs are part of American culture. For about a dozen students at Georgetown University's McDonough School of Business, the simple lemonade stand has become a unique opportunity to mentor local children.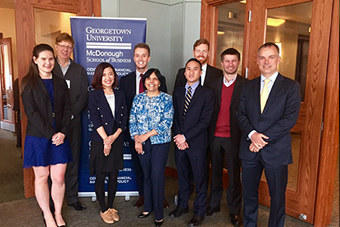 Center for Financial Markets and Policy Convenes FinTech Leaders
Georgetown's Center for Financial Markets and Policy, the World Economic Forum, and the SME Finance Forum convened FinTech leaders at Georgetown's McDonough School of Business April 14 to discuss the growing industry and the approaches regulators have taken to address the lack of financing for small and medium-sized enterprises.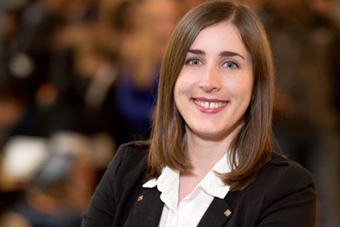 MBA Student Wins International Leadership Award
Abby Schwartz, a second-year MBA student at Georgetown's McDonough School of Business, is the recipient of the 2016 Graduate Business Forum Responsible Leadership Award. Schwartz was recognized for her successful integration of diversity and inclusion initiatives at Georgetown, including establishing a new vice president for diversity and inclusion position within the MBA Student Government Association, and increasing women in leadership positions in the association by 400 percent.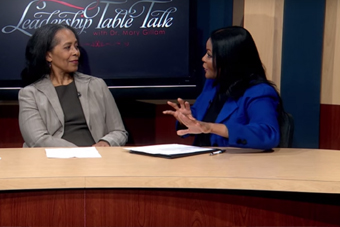 EML Student Hosts Leadership Talk Show
Mary Gillam, a retired colonel in the U.S. Air Force and a current student in Georgetown McDonough's Executive Master's in Leadership program, hosts "Leadership Table Talk." The show, which includes interviews with local business and community leaders, airs locally on Verizon and Cox Channel 10 and Comcast Channel 27.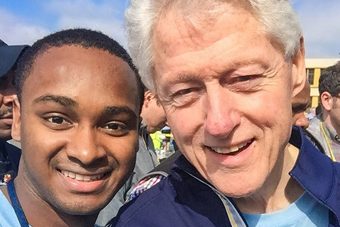 Febin Bellamy Leads Georgetown Students to Clinton Global Initiative University
A group of 12 Georgetown University students, led by McDonough School of Business junior Febin Bellamy, traveled to the University of California at Berkeley to participate in the 10th annual Clinton Global Initiative University conference in April. Hosted by President Bill Clinton, more than 1,200 student leaders from around the world attended the event to celebrate their peers' commitment to social justice and the subsequent impact on their campus and communities.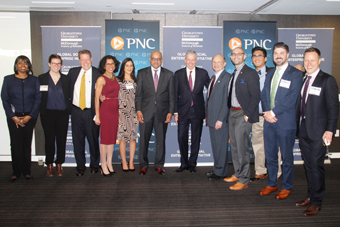 GSEI and White House Collaborate on Rural Investment Conference
Georgetown's Global Social Enterprise Initiative collaborated with the White House Rural Council on the third annual White House Rural Opportunity Investment Conference: Investing for Impact in the Rural Economy, held on May 3 in Washington, D.C. GSEI student leaders organized a post-conference reception with co-hosts PNC Bank and Arabella Advisors.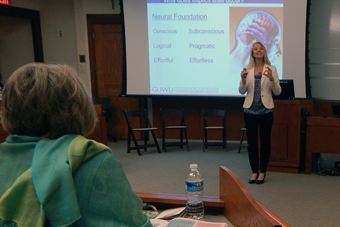 Faculty Participate in International Forum on Women's Leadership
The Power Shift Forum on Women in the World Economy was held at Georgetown McDonough May 4-5, bringing together hundreds of leaders from academia, the private sector, government, and nonprofits. The two-day forum featured keynote addresses, panel discussions, and breakout sessions, including sessions on hidden barriers and evidence-based change interventions by Catherine Tinsley, faculty director of the Georgetown University Women's Leadership Institute (GUWLI), and a session on the changing definition of leadership by Michael McDermott, professor of the practice. This is the first time the event was held in the United States GUWLI and the Georgetown Institute for Women, Peace, and Security were partners in hosting the conference.