Undergraduate Program Advances in Businessweek Ranking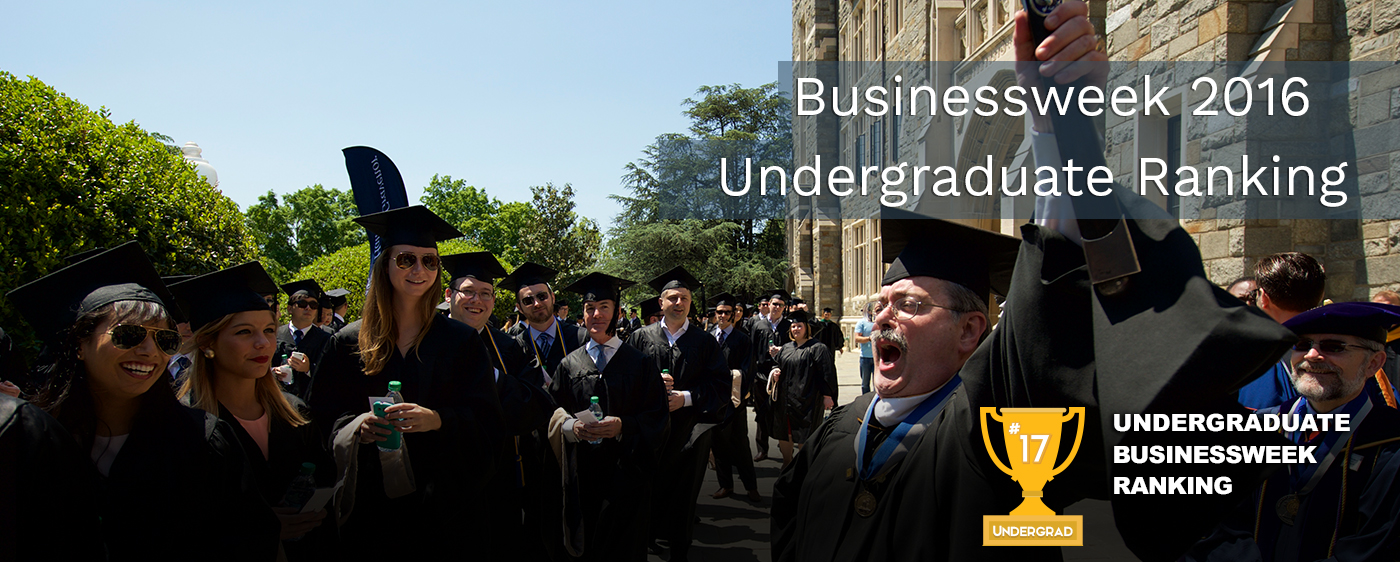 Businessweek has named Georgetown McDonough's Undergraduate Program 17th in the nation – one position higher than its previous ranking in 2014.
Additionally, the program is ranked 4th for average starting salaries, 14th for the percentage of students with business-related internships, and 17th for student satisfaction.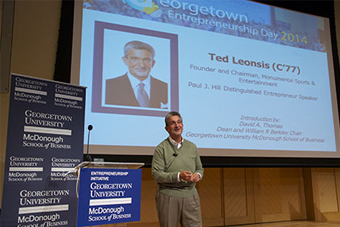 Georgetown University Supports Student Entrepreneurs Through New Prize
Georgetown University students with entrepreneurial ambitions and a heart for service will have a new source of support, thanks to Ted Leonsis (C '77), a longtime entrepreneur, investor, and founder and CEO of Monumental Sports & Entertainment, his wife, Lynn, his son, Zach (MBA '15), and his daughter, Elle (C '14), who have pledged $1 million toward a prize.

Starting in fall 2016, the Leonsis Family Entrepreneurship Prize will honor and provide financial support to Georgetown students and recent alumni who have launched or are preparing to launch new business ventures that address problems in the world.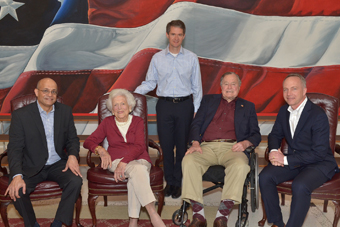 Professors Teach About Building Strategic Partnerships at Bush Presidential Center
Georgetown McDonough Professors Paul Almeida, Brooks Holtom, and Michael O'Leary are working with the U.S. Presidential Centers for Presidents Lyndon B. Johnson, George H.W. Bush, William Jefferson Clinton, and George W. Bush to lead scholarly lessons on leadership.

Most recently, Almeida and Holtom drew from their scholarly research to teach classes on the topic of strategic partnerships for 60 Presidential Scholars at the George H.W. Bush Presidential Center. President H. W. Bush and first lady Barbara Bush attended the module, which included sessions conducted by members of the president's administration. The module centered around forming and using alliances, an area in which the professors say Bush excelled.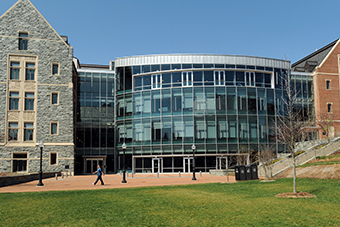 Faculty Named 2016 Dean's Fellows
Eleven tenured, full-time McDonough School of Business faculty members have been appointed Dean's Fellows for 2016-2017. The awards support and reward tenured faculty who maintain a high level of success in the publication of their research.

The 2016 Dean's Fellows are: Kurt Carlson, Robin Dillon-Merrill, Ronald Goodstein, Brooks Holtom, Jeffrey Macher, John Mayo, Lee Pinkowitz, Christine Porath, Dennis Quinn, CatherineTinsley, Sezer Ulku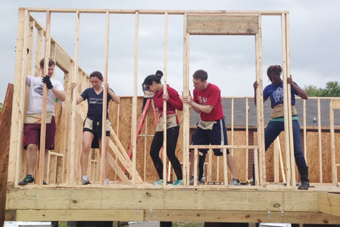 MBAs Build Homes over Easter Break
During Easter break, 17 MBA students traveled to New Orleans to partner with Habitat for Humanity in building a home for a family directly affected by Hurricane Katrina.

Tahira Taylor (MBA '17), vice president of community service for the Student Government Association, started the trek as a way to incorporate travel with volunteerism. "Once I got the role of vice president of community service, I started thinking about different ways to give the MBAs that travel experience, while also tying it into service," she said.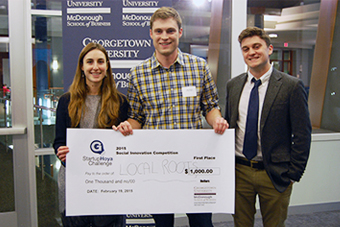 Student Entrepreneurs Named to Inc.'s Coolest College Startups List
Two startups run by Georgetown University students have been named to Inc. Magazine's 2016 "Coolest College Startups" list, including Local Roots Farms, co-founded by Daniel Kuenzi (MBA '17), and MISFIT Juicery, led by Ann Yang (SFS '16) and Phil Wong (SFS '15).

Inc.'s 16 Coolest College Startups were selected from a list of more than 100 companies from universities across North America, and were chosen based on the originality of the idea, the pitch, and growth potential.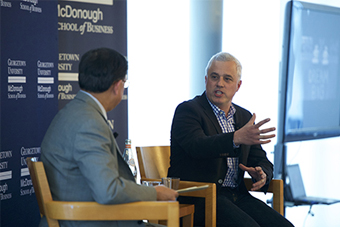 Converse VP Shares Marketing Insights
When Andres Kiger was an MBA student at Georgetown University's McDonough School of Business, he would use his time walking across the Key Bridge to think about what he wanted to do with his life and what his career might hold."I always have had a passion for marketing, and I always have loved iconic brands," he said, recalling those walks. "And I had this bug to be around the world."

Kiger (MBA '95) shared his lessons from more than 20 years in global marketing, including as vice president of Latin America marketing at Converse, with fellow Hoyas on March 30 as part of Georgetown McDonough's Stanton Distinguished Leaders Series.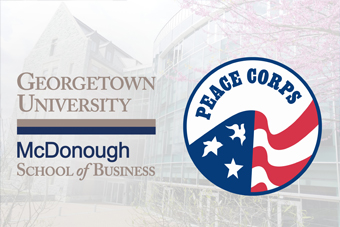 Georgetown MBA to Offer Coverdell Fellowships to Returned Peace Corps Volunteers
Georgetown University's McDonough School of Business has been selected by the Peace Corps to join the Paul D. Coverdell Fellowship Program for returned Peace Corps volunteers.

As part of the program, returned volunteers who are admitted to Georgetown's Full-time MBA Program as a Coverdell Fellow will receive a minimum of $10,000 in tuition scholarship funding per year and the ability to apply for graduate assistantships. Once enrolled, all fellows complete internships in underserved American communities, allowing them to bring home and expand upon the skills they learned as volunteers.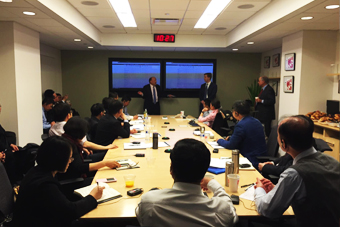 Chinese Executives Complete Three- Week Custom Finance Program
In early April, 25 managers from the Agricultural Bank of China (ABC) completed a three-week program with the Office of Executive Education. This is the second year Georgetown McDonough has run a customized executive program for ABC, one of the "Big Four" state-owned banks that anchor China's financial system. The program focuses on topics such as financing small and medium-sized businesses, utilizing risk management, and understanding differences in the U.S. and Chinese banking industries.

Participants spend the first two weeks at Georgetown before traveling to New York City for the concluding week. The incorporated nearly 20 site visits, including to the U.S. Commodity Futures Trading Commission, Small Business Administration, and U.S. Department of Agriculture. This year, the group had a meeting with Jim Cramer, financial expert and CNBC host, and Jack Mohr (B '12), director of research for Jim Cramer's Charitable Trust.


Georgetown University McDonough School of Business

Rafik B. Hariri Building | 37th & O Streets NW | Washington D.C. 20057

http://msb.georgetown.edu