The Dean Travels to Dubai and Mumbai

Dean David A. Thomas traveled to Dubai and Mumbai in late February to meet with alumni and friends of the McDonough School of Business. While there, he attended alumni receptions and had interviews with more than a dozen news outlets, including an appearance on Dubai Eye's "The Business Breakfast" show to discuss global business education.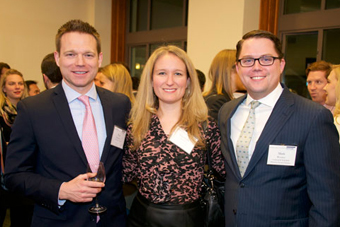 Alumni Celebrate 10th Anniversary of MBA Evening Program's Founding
Just a decade ago, the first cohort of MBA Evening Program students set foot on campus to begin their studies at Georgetown University's McDonough School of Business. These pioneering students would spend the next three years working with faculty to shape what has become one of the top MBAs in the country for working professionals. In February, alumni, students, faculty, and staff gathered in the Hariri Building to celebrate the milestone in the program's history, as well as the recent ranking by Bloomberg Businessweek naming Georgetown's MBA Evening Program 4th in the nation and 1st in the region.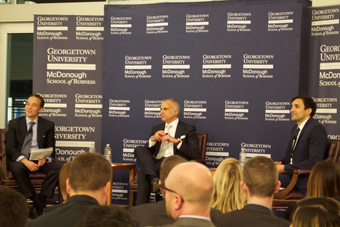 Global Luxury Summit Explores Spirit and Desire with Audi and AKQA
For Mark Del Rosso, Executive Vice President and COO of Audi America, the company's Super Bowl commercial typifies the company's "challenger spirit."

"Challenger is in our DNA as a company," he said, speaking to a standing room only crowd at Georgetown University's McDonough School of Business on Feb. 25.

Del Rosso joined Ajaz Ahmed, CEO of AKQA, for the second annual panel on luxury branding, co-sponsored by the Georgetown McDonough Office of Alumni and External Relations, the Georgetown Retail and Luxury Association (GRLA), and Georgetown McDonough's Undergraduate Program Office.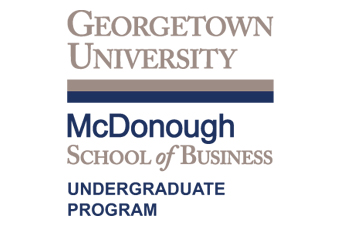 The McDonough Undergraduate Research Journal Debuts
The McDonough Undergraduate Research Journal (MURJ) will make its debut in April, 2016. The main purpose of the journal is to provide an outlet for exceptional undergraduate research that has been conducted in collaboration with a Georgetown faculty member during participation in the McDonough Summer Undergraduate Research Fellows (SURF) Program. The journal offers undergraduates the chance to share their scholarship with a broader, university-wide, audience.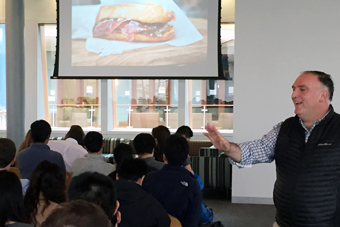 Chef Jose Andres Gets MBAs' Creative Juices Flowing
The Global Business Experience speaker series continued on Tuesday, Feb. 16, with world-renowned chef Jose Andres. Andres spoke to Georgetown MBA students traveling to Madrid and Barcelona for their week-long consulting project in March, discussing how creative food is the result of creative business.

Boasting an eccentric and outgoing personality, Andres has been credited with bringing small plate dining to America.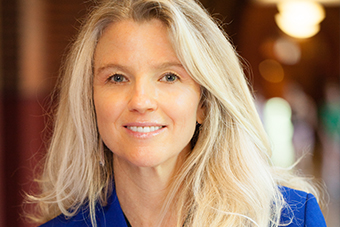 Gender Diversity on U.S. Corporate Boards
Cathy Tinsley's research campaign web story – forthcoming, pending Cathy's approval Fifty years ago it was nearly impossible to find women in executive leadership positions. Now, nearly half of the labor force is female. 51 percent of management and professional occupations are held by women. Yet, women hold only about 17 percent of corporate board seats. Despite positive changes over the years and rhetoric supporting the advancement of women in business leadership roles, over the last decade, there is meager evidence of significant progress in U.S. corporate boardrooms.

A woman is most likely to be appointed to a corporate board when a fellow woman departs, according to a forthcoming study in the Industrial Labor Relations Review.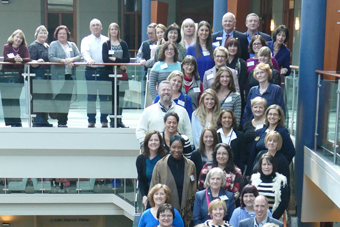 Enhancing Ethical Leadership at the School Nutrition Association
In February, the Office of Executive Education welcomed 74 members of the School Nutrition Association (SNA)(SNA) for a one-day program on ethical leadership in advance of the association's Legislative Action Conference. This is the fifth year Georgetown McDonough has hosted SNA for the program, which focuses on a different theme each year. This year's theme was "Ethical Leadership: Ends, Means, and Moral Profiles."

Participants, including directors of school nutrition from school districts across the country, collaborated in small groups to analyze a real-life ethical leadership dilemma. Faculty led the participants in a detailed personalized analysis of their leadership styles, including how to solicit feedback. SNA is a national, nonprofit professional organization representing more than 56,000 members who provide high-quality, low-cost meals to students across the country.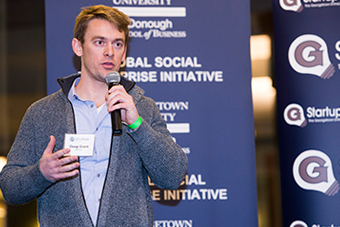 Students Pitch Social Ventures at "Entrepreneurship: A Force for Good"
Students from across Georgetown University gathered to share their socially conscious business ideas at "Entrepreneurship: A Force for Good" on Feb. 18 at the university's McDonough School of Business. Fourteen student teams – representing Georgetown McDonough, the College, the Walsh School of Foreign Service, the McCourt School of Public Policy, and the School of Continuing Studies – pitched at the event, with ideas ranging from a story sharing platform to recognize university employees to partnerships to provide income opportunities around the world.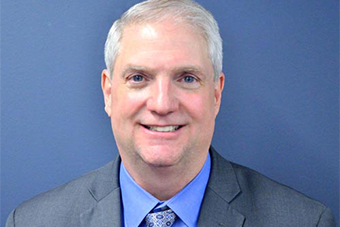 Former Nasdaq Executive Joins Leadership of Georgetown Center for Financial Markets and Policy
John Jacobs, a longtime executive at Nasdaq, has been named the executive director of the Center for Financial Markets and Policy at Georgetown University's McDonough School of Business.

As executive director, Jacobs is responsible for developing a comprehensive, multi-year strategic plan for the center. He will manage the growth and development of the center, including forging partnerships with corporations, nonprofits, and government; and collaborating with the other schools at Georgetown University.
Upcoming Events
Reflections on Running: A Conversation with Carly Fiorina, March. 14

Disruptive Leadership in the Global Auto Industry: A Conversation with Carlos Ghosn,
Chairman and CEO of the Renault-Nissan Alliance, March 22
Building Iconic Brands in the Age of Real Time: A Conversation with Andres Kiger,
Vice President of Latin America Marketing for Converse, March 30
Stanton Distinguished Leaders Series:
John Waldron, Co-Head of Investment Banking at Goldman, Sachs & Co., April 6
John Carroll Weekend in Rome, April 14 – 17
Real Estate Luminaries Series Presents: A Conversation with Tom J. Barrack, Jr. of Colony Capital, Inc., April 21


Georgetown University McDonough School of Business

Rafik B. Hariri Building | 37th & O Streets NW | Washington D.C. 20057

http://msb.georgetown.edu