New Global Business Fellows Program Prepares Students to Become Global Leaders




As part of Georgetown University McDonough School of Business's commitment to be the premier destination for global business education, the school partnered with the university's Walsh School of Foreign Service to launch the Global Business Fellows Program this month for their undergraduate students. This program combines the fundamental principles of business with the required understanding of international affairs in the areas of geopolitics, diplomacy, and international development. The specialized curriculum provides students with interdisciplinary courses that will enable them to analyze and solve challenges that impact business and public policy.

CEO of Morgan Stanley Discusses Financial Industry with Students




James Gorman, chairman and CEO of Morgan Stanley, addressed nearly 200 students at Georgetown University's McDonough School of Business on Feb. 5, including many who have already accepted full-time positions and internships at the company.
A native of Brisbane, Australia, Gorman started as a lawyer before his transition to the financial industry. He joined Morgan Stanley in 2006 and became CEO in 2010.
For a company like Morgan Stanley, that receives more than 100,000 resumes a year, standing out can come down to finding the area of the company that that is the best fit, Gorman said.
"It's a big world and there are a lot of people out there," Gorman said. "The talent is not the issue. The issue is passion and aligning your interests."

Georgetown Advances to VCIC Global Finals




MBA students from Georgetown University's McDonough School of Business won first place at the Venture Capital Investment Competition (VCIC) regional event on Feb. 6, advancing Georgetown's team to the VCIC Global Finals. Five MBA students traveled to Boulder, Colo., to compete against teams from Arizona, Brigham Young, Notre Dame, San Diego State, and Thunderbird School of Management.
Jordan Edelman (MBA '16), Eric Ellsworth (MBA '15), Amir Kabir (MBA '15), Ben Shopneck (MBA '15), and Coral Taylor (MBA '16) represented Georgetown in Boulder after winning internal venture capital competitions against other McDonough MBAs in the fall. Since then, the five students have trained intensely with Georgetown Entrepreneurship Initiative Director Jeff Reid and local venture capitalist Sara Zulkosky (MB '13), who competed on the team that won Georgetown the VCIC global championship in 2013. The students will next travel to UNC on April 9 for the global finals. Teams from Georgetown have gone to the finals four of the last six years in the MBA division and have won two of the last three national championships in the undergraduate division.

Award-Winning Chef Jose Andres Preps MBA Students for Barcelona




Chef Jose Andres, known for his highly regarded restaurants in Washington, D.C., and around the world, sees himself as more than a cook.
"I'm a storyteller," he said. "I have realized what I tell are stories. I'm sharing what I'm learning. I'm not just opening a restaurant, I'm telling a story of what I see."
Andres encouraged students at Georgetown University's McDonough School of Business to find what makes them unique and what inspires them. The group of more than 30 Full-time MBA students will travel to Barcelona in March as part of the Global Business Experience consulting trip.

Events

•

March 18: Conversation with Tucker York,
Stanton Distinguished Leader Series, 5 p.m.
[REGISTER]

•

April 23: Real Estate Luminaries Series, 4 p.m.
[REGISTER]

MBA Admissions
MBA Program Admitted Student Welcome Weekend Lunch
Date: Saturday, April 18
Time: 12:45 – 2:00 p.m.
Location: Rafik B. Hariri Building
37th and O Streets, NW
Washington, DC 20057

Alumni Needs: The MBA Admissions team would love 10-15 MBA Program (FT and EP) alumni to informally network with and welcome newly admitted students into the program. For more information and to RSVP, please click here

Forte Fellow Alumnae Volunteer Opportunities The Forté Foundation seeks Forté Fellow Alumnae who want to give back and share their advice on navigating the MBA application process by serving as a Peer Group Advisor for the Forté MBALaunch for Women Program.
Peer Group Advisors are asked to join one "Jam Session" peer group meeting in March, April, June, July, September, and October. Each peer group will be assigned two Peer Group Advisors. Jam Sessions will have a designated topic around the MBA application process. Forté will provide short online training sessions and monthly meeting agenda templates. To volunteer as a Peer Group Advisor, please complete this form.

After you have completed the form, our MBALaunch team will reach out to you with more information in early March. Questions? Please email Krystal Brooks.

Doran Appointed to Panel on Collegiate Achievement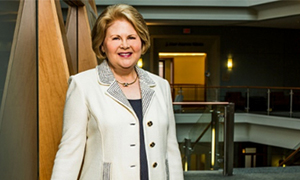 Georgetown University McDonough School of Business Professor Lynn Doran has been appointed a 2015 faculty panelist for the Measuring College Learning (MCL) Project. In an effort to shed light on questions of academic achievement and assessment, the MCL brings together faculty from six fields of study — biology, business, communication, economics, history, and sociology — to reach consensus on how schools can effectively measure their students' achievement. She is one of 15 scholars appointed to the panel on business education this year.
Jose Barroso Joins Business, Society, and Public Policy Initiative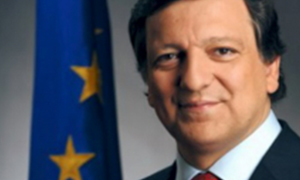 Jose Manuel Barroso, former president of the European Commission, has joined the external advisory committee of the Business, Society, and Public Policy Initiative at Georgetown University's McDonough School of Business. The initiative, launched in October 2014, provides students, business, and political leaders a greater understanding of the challenges facing corporations and provides a nonpartisan, global venue to address critical business issues of the day.
Barroso joins more than a dozen other prominent leaders on the initiative's external advisory committee. (See full list here).
McDonough and Niger Delta Partnership Initiative Collaborate on Growth




The Niger Delta Partnership Initiative (NDPI) Foundation and the Global Social Enterprise Initiative (GSEI) at Georgetown University's McDonough School of Business announced a partnership to support the reduction of conflict and promote equitable economic growth in the Niger Delta region of Nigeria.

As partners, GSEI and NDPI will work collaboratively to increase awareness of how conflict mitigation can lead to economic opportunity in the Niger Delta region; build the capacity of NDPI's board, staff, and key stakeholders in best practices for organizational effectiveness and stakeholder engagement; and examine, showcase, and share best practices in corporate responsibility.

John Carroll Weekend 2015 Will Take Place in Los Angeles This April




This year, Los Angeles will welcome alumni, family, and friends of Georgetown as we come together April 16-19, 2015, for John Carroll Weekend. This annual celebration and trademark of the Georgetown University Alumni Association has been a signature university event for more than six decades — a weekend packed with social, cultural, and intellectual engagement. Take a west coast "spring break" and let Georgetown be your guide to this exciting Southern California metropolis for four days of behind-the-scenes tours, elegant signature events and one-of-a-kind outings. For more information and to register, visit jcw.georgetown.edu

Georgetown-ESADE Global Executive MBA program participants visit Qatar




Georgetown University in Qatar recently hosted the Georgetown-ESADE Global Executive MBA (GEMBA) program participants during their fourth residency module which included site visits to Bangalore and Doha.

Leveraging the expertise and the alliance of Georgetown's McDonough School of Business and Walsh School of Foreign Service and ESADE Business School, Spain, in global business strategy and management, policymaking, international relations and leadership, the GEMBA program is a world-class master's program that was created for professionals who have a current international role and at least eight years of postgraduate experience. The program equips participants with the knowledge, skills, and global perspectives needed to manage and lead effectively in today's rapidly changing business environment.

Georgetown University McDonough School of Business
Rafik B. Hariri Building | 37th & O Streets NW | Washington D.C. 20057
http://msb.georgetown.edu


If you don't want to receive updates, please unsubscribe