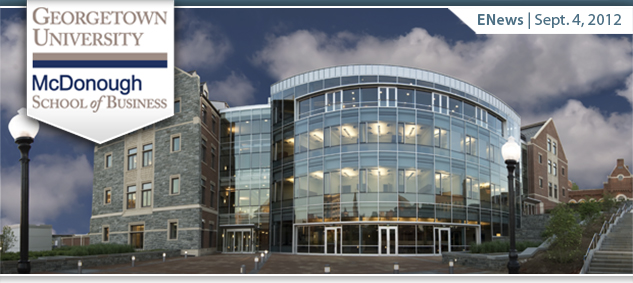 Serious Business Starts Now - New MBA Curriculum

As a pioneer in global business education, Georgetown University's McDonough School of Business once again is changing the way that MBA students attain a global mindset.

This August, incoming MBA students arrived early to complete the Structure of Global Industries, a three-week integrative course that teaches the critical features of competition in international business. It is the first course in a newly designed curriculum that aims to develop principled leaders with a global mindset to be in service to business and society through integrative teaching, added rigor, and a greater emphasis on quantitative and analytical skills.

"We innovated global consulting projects 18 years ago as a core requirement for all MBA students and we believe that our new curriculum – starting with the Structure of Global Industries – will be a major new innovation on the landscape of global business education," said Elaine Romanelli, senior associate dean for MBA programs at Georgetown McDonough. "Moreover, while other schools are easing their students into the academic year, we have asked our students to spend their first three weeks immersed in this intense course. I've emphasized to them that we are serious about business education, and seriousness starts now."

Upcoming Events

Sept. 10, 2012
Health Care Reform Discussion
[REGISTER]


Sept. 13, 2012
Georgetown-wide "Welcome to the Neighborhood" Happy Hour
[REGISTER]


Sept. 19, 2012
Conference on Financial Markets Quality
[REGISTER]




New Book by Keith Ord Focuses on Forecasting
MBA Students Engage with Argentinean Community Through Techo
Executive MBA Global Project Brings Ilio Designs to Neiman Marcus
Principles of Business Forecasting, a new book co-authored by Keith Ord, professor of operations and information management at Georgetown's McDonough School of Business, and Robert Fildes of Lancaster University Management School, serves both as a textbook for students and a reference book for experienced forecasters.
Instead of traveling home after completing their Global Business Experience consulting
projects in Argentina this summer, students from the Georgetown McDonough MBA Evening
Program took a side trip to the Barrufaldi settlement in Buenos Aires. This visit was made possible through TECHO, a youth-led nonprofit organization in Latin America and the Caribbean that seeks to overcome poverty in slums.
Jennifer Dalton, president at Vaughn Advisors LLC, gained real-world global marketing experience and a business client when she completed an international consulting project for her Executive MBA at Georgetown University's McDonough School of Business.
[READ MORE]
[READ MORE]
[READ MORE]
Health Care Reform Discussion: Sept. 10
Conference on Financial Markets Quality, Sept. 19
Energy and Cleantech Conference, Oct. 12
On Monday, September 10, business leaders, policymakers, and other interested parties can learn firsthand about the role that Massachusetts business played in the development and implementation of health care reform, the results experienced to date, and the challenges they
face.

The Center for Financial Markets and Policy at Georgetown University's McDonough School
of Business and Financial Times will host a timely conference on financial markets quality
Wednesday, September 19, 2012.
The Georgetown Energy and Cleantech Conference: Global Energy Innovation-- Envisioning a Sustainable Future, will take place Friday, October 12, at the Hariri Building. The world faces a wide range of critical energy challenges, and significant investment is necessary to help ensure the future availability of affordable, low-carbon energy.
[REGISTER]
[REGISTER]
[READ MORE]

INfo News Joins the ENews


In response to your feedback to the March 2012 alumni survey, we have incorperated the monthly alumni newsletter, INfo, into the school's ENews. In future issues we will provide information about upcoming events, as well as alumni updates and activities of the Office of Alumni and External Relations.
Homecoming 2012


Georgetown McDonough students and alumni ambassadors have been working to plan a Georgetown McDonough Homecoming party the afternoon of Saturday, September 29, at the Rafik B. Hariri Building. As many of you know, our gorgeous facility is located next to the football field, providing some of the best seats for the weekend's athletic competition. Watch your email for more details.

Executive Education Classes

Faculty News

Alumni Referral Program

Sept. 10-13, 2012
Innovating Sales
[REGISTER]

Sept. 25-27, 2012
Leading Change
[REGISTER]

Oct. 10-12, 2012
Demystifying Finance
[REGISTER]

Oct. 17-19, 2012
Embracing Change
[REGISTER]

Oct. 24-26, 2012
Brand Advantage
[REGISTER]

Faculty In The News

To visit the "In the News" section of the website, click here.

Faculty Research Papers

Visit our archive at the Social Science Research Network website, click here.



As an alumnus of Georgetown University's McDonough School of Business, you understand firsthand the drive, motivation, and commitment it takes to succeed on the Hilltop. We welcome your endorsement of friends, colleagues, and family members to our competitive degree programs.
| | | | |
| --- | --- | --- | --- |
| Friend Us | | Follow Us | |

Copyright © 2012 McDonough School of Business . All Rights Reserved.
Rafik B. Hariri Building | 37th & O Streets, NW | Washington, DC 20057

Contact: Office of Marketing & Communications: georgetownbusiness@msb.edu

Web version | Unsubscribe