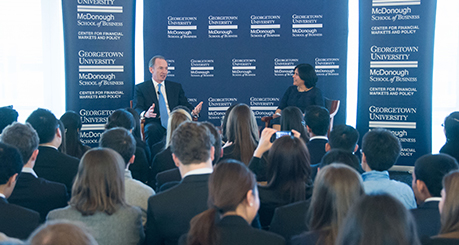 Save the date for the opportunity to attend the Leaders in Global Finance Speakers Series, hosted by the Center for Financial Markets and Policy and the Stanton Distinguished Leaders Series. This speaker series brings influential thought leaders from the world of business to discuss trends in global financial markets and the skill set needed to succeed. Students of all years and majors are invited to attend.


September 12, 5 p.m. in Fisher Colloquium,
Kenneth Griffin, founder and CEO of Citadel
Citadel invests across asset classes and is one of the largest hedge funds in the world.

September 15, 12:30 p.m. in Fisher Colloquium,
Stacie Swanstrom, executive vice president of Nasdaq
Nasdaq provides the infrastructure, tools, and strategic insights tailored for the capital-market opportunities of today and the expectations of tomorrow.

September 19, noon in Fisher Colloquium,
Philippe Laffont and Thomas Laffont, managing directors of Coatue Management
Coatue is a hedge fund and private equity fund focusing on the technology, media, and internet sectors.

September 26, 5 p.m. in Fisher Colloquium,
Tom Purcell, president of Lake Trail Capital and former Chief Investment Officer of Viking Global Investors
Viking Global is one of the largest long/short hedge funds in the world.