Initiative's Advisory Board Meets for the First Time

From left to right: James P. Moore, Jr., Managing Director of the Business, Society, and Public Policy Initiative; Sheikh Dr. Khalid bin Thani al Thani, Chairman, Ezdan Chairman and Managing Director, Qatar International Islamic Bank; Chairman, Vodafone; Former Secretary of State Madeleine Albright; and Ann M. Veneman, Executive Director, UNICEF (2005-2010); U.S. Secretary of Agriculture (2001-2005)
Members of the Business, Society, and Public Policy Initiative's Advisory Board came together for the first time on April 9 and 10 at Georgetown's McDonough School of Business. Students, faculty, and administrators addressed the board on topics such as curriculum, meaningful research, the work of the school's nine other centers and initiatives, and the overall goals of Georgetown McDonough. The board also discussed efforts related to the initiative's work in the local, national, and global arenas. Jason Grumet, president and CEO of the Bipartisan Policy Center, discussed the Memorandum of Understanding recently signed between Georgetown McDonough and the center. At the conclusion of the board meeting, the members held an executive session to discuss the future of the initiative, the work of the board, and specific recommendations.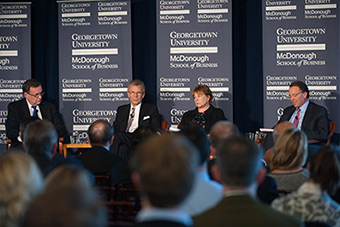 Inaugural Hariri Symposium Tackles Challenges, Asserts Role of Business Education
In an increasingly global business environment, companies have to grapple with issues ranging from terrorism to cybersecurity to militarism. The Business, Society, and Public Policy Initiative at Georgetown University's McDonough School of Business addressed these topics during its inaugural Hariri Symposium on "Doing Business in an Unsafe World" April 9 on the Georgetown campus. In a panel discussion, former U.S. Senate Majority Leader Tom Daschle, Mosbacher Energy Company Chairman Robert Mosbacher, Jr., former U.S. Secretary of Agriculture Ann Veneman, and Business, Society, and Public Policy Initiative Managing Director James P. Moore, Jr., discussed topics ranging from the attacks of September 11, 2001, to the international challenges of cybersecurity, to the role that business students and educators can have in navigating a new set of social and technological risks in the modern business world. The symposium is featured in the July/August issue of BizEd Magazine.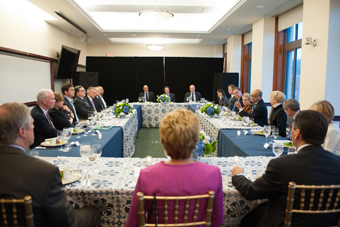 A Snapshot from the Board Dinner
As part of the inaugural meeting of the initiative's Advisory Board in April, the board members came together for a dinner in the Hariri Building. Former Secretary of State Madeleine Albright joined the board members as a distinguished guest.

During dinner, former President of the European Commission Jose Barroso was asked: "What was it like a few months ago when you were serving as president of the European Commission to learn that Russia had invaded Ukraine and annexed Crimea to its territory? Clearly you realized that the West would need to impose sanctions against Russian companies and that Russia would in turn do the same." In response, Barroso shared the fact that he had been preparing himself in the days prior and realized the events were inevitable. Albright joined the conversation, sharing stories from her time at the State Department. The dinner capped off the Hariri Symposium and set the stage for successful discussions the following day.
Initiative's Advisory Board
| | |
| --- | --- |
| • | Chair, Lady Barbara Judge, Chair, Institute of Directors; Chairman, UK Pension Protection Fund; Chairman Emeritus, UK Atomic Energy; Authority Member, U.S. Securities and Exchange Commission (1980-1983) |
| • | His Excellency Jose Manuel Barroso, President of the European Commission (2004-2014); Prime Minister of Portugal (2002-2004) |
| • | The Honorable Tom Daschle, Chair, Center for American Progress; Democratic Leader, U.S. Senate (1994-2005); U.S. Senator (D-South Dakota) (1987-2005) |
| • | Thomas W. Farley, President and CEO, NYSE Group (New York Stock Exchange) |
| • | Carly Fiorina, Chairman, Unlocking Potential Project; CEO, Hewlett Packard (1999-2005) |
| • | Robert J. Flanagan, Executive Vice President, Clark Enterprises; Chairman, Federal City Council |
| • | His Excellency Vicente Fox, President of Mexico (2000-2006); Chief Executive, Coca-Cola Mexico (1975-1979) |
| • | The Honorable Jon M. Huntsman, Chairman, Atlantic Council; Governor of Utah (2005-2009); U.S. Ambassador to China (2009-2011) |
| • | Morgan E. O'Brien, Cofounder and Chairman, Nextel Communications (Sprint) (1987-2005) |
| • | Sheikh Dr. Khalid bin Thani al Thani, Chairman, Ezdan Chairman and Managing Director, Qatar International Islamic Bank; Chairman, Vodafone |
| • | His Excellency Aleksander Kwasniewski, Chairman, International Center for Policy Studies, Kiev, Ukraine; President of Poland (1995-2005) |
| • | The Honorable James P. Moore, Jr., Managing Director, Business, Society, and Public Policy Initiative; U.S. Assistant Secretary of Commerce (1983-1989) |
| • | The Honorable Robert A. Mosbacher, Chairman, Mosbacher Energy Company; President and CEO, Overseas Private Investment Corporation (2005-2009) |
| • | Eric F. Trump, Executive Vice President for Development and Acquisitions, Trump Organization; Chairman, Eric F. Trump Foundation (St. Jude's Hospital) |
| • | The Honorable Ann M. Veneman, Executive Director, UNICEF (2005-2010); U.S. Secretary of Agriculture (2001-2005) |
| • | The Honorable Anthony A. Williams, Chief Financial Officer, District of Columbia (1995-1998); Mayor of Washington, D.C. (1999-2007) |


Georgetown University McDonough School of Business

Rafik B. Hariri Building | 37th & O Streets NW | Washington D.C. 20057

http://msb.georgetown.edu